by Wendy Bacon and Chris Nash
Wendy Bacon has been an urban activist and journalist since 1969. She is a non practising lawyer & was previously the Professor of Journalism at the University of Technology Sydney.
Chris Nash was Professor of Journalism at Monash University, and previously Director of the Australian Centre for Independent Journalism at UTS.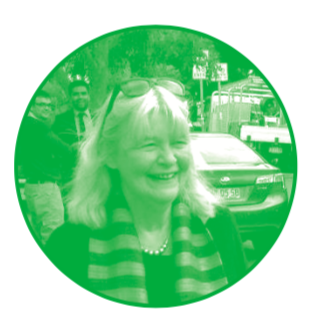 Over the fifty years that Kaldor Public Art Projects has been running a lot has happened in the background. Events, issues, artists that at the beginning seemed insignificant slowly emerged as the most important. But there is no greater issue than climate change, and nothing more urgent than dealing with bushfires. Looking back it turns out that rising carbon dioxide levels were already being noted in the 1960s and the CSIRO was warning about increased bushfire danger in 1987. Wendy Bacon and Chris Nash reflect on the biggest story ever and the biggest cover up ever.
It's Sunday night in mid-November 2019 and there are 142 fires burning across NSW and Queensland.
Four people, hundreds of koalas and many thousands of other animals have died. Incinerated wildlife includes species already threatened with extinction. In NSW alone, more than 500 homes have been lost. Millions have been immersed in hazardous smoke. The hidden health impacts of trauma and air pollution will be with us for decades.
Australia is in the midst of an unprecedented bushfire catastrophe, on top of devastating drought and water shortages throughout large swathes of NSW.
This is not normal. The catastrophe began months ago, and is predicted to spread to South Australia and Western Australia and continue for weeks.
But should we be surprised?
It's more than half a century since scientists first warned that human beings might be contributing to global warming by burning fossil fuels. In the late 1980s, Australian climate scientists reported that global warming would bring more severe bushfires. In 2014, the Climate Council's Professor Lesley Hughes published a summary report warning that climate change was contributing to "Earlier, More Frequent, More Dangerous Bushfires in New South Wales". The window for hazard reduction was shrinking.
Journalism can do a fine job of reporting the here and now. In recent weeks, the mainstream media have dispatched scores of reporters into the field. Hundreds of stories of devastating loss and threat have been told that enable us to identify with those on the frontline of fire. Firefighters risking their lives against a backdrop of flames and black smoke. Survivor koalas getting their paws tended after hundreds of others are incinerated. Traumatised residents standing beside homes and cars turned to ash.
Social media amplifies these media reports. "Evan" who describes himself as an "animist, botanist and misanthrope," tweeted a video to his followers last Friday of his dogs bounding through his mid North coast property before it was burnt to the ground. "This is my farm before the fires. Now there is nothing left of the house. Not. One. Thing. Imagine the lost of wildlife." 15 years ago, he built his off-the-grid concrete and steel house and planted more than 10,000 trees on what had been a weed infested block. By Sunday, the video had been viewed 71,000 times. Many of the 500 people who responded offering support mentioned climate change.
Endless stories are waiting to be told. Reportage is important but it's not enough. Journalism is rooted in the present but to understand the present, we need to dig into the past. When it comes to explaining the "how and why" of events, journalism struggles. The Canadian media theorist James Carey described this failure as the "dark continent and invisible landscape" of journalism.
In this case, the "how and why" involves talking about the links between bushfires and climate change. This is just what the Prime Minister Scott Morrison and the leader of the Labor opposition Anthony Albanese wanted us to postpone last week. Fortunately, some reporters ignored their advice and continued to ask questions about the link between the fire emergency and climate change. NSW Mayors, including Glen Innes Mayor Claire Sparks who had lost her home, and ex-NSW Rural Fire Service Commissioner Greg Mullins urged the government to take action to address climate change and stop Australia's rising emissions. "It's not political, it's fact," said Mullins. He was quoted as saying that he was "absolutely" not allowed to talk about climate change when he was working as the NSW commissioner and that this was told to him in "no uncertain terms" after he made comments following bushfires in 2009.
You can get no more credible sources in a bushfire emergency than heroes and victims of fires. "Bushfires and climate change" is finally "a big story". But the question is: why did it take so long and even now, is the media fulfilling the goal it claims to embrace of making sure all Australians have a right to know?
In trawling through back copies of anti-censorship UNSW student paper Tharunka in preparation for reporting for EXTRA!EXTRA, we discovered some old reports. In the late 1960s the "great pollution problem" was newsworthy. A then-young radical sociologist and designer Rick Mohr put together a package of stories including a reprint of a story by US-based scientist Gordan J.F. McDonald. who was concerned that the activities of man could be impacting on climate in significant ways. "Increasing the carbon dioxide content of the atmosphere by burning fossil fuels" was on top of a list of activities.
There were many unknowns, confusions and uncertainties in such early reports about human-induced climate change. But over the next two decades, the climate science field developed and resolved many of them. By 1988 the evidence was so strong that the United Nations set up the Intergovernmental Panel on Climate Change (IPCC). In 1990, it predicted that global warming from greenhouse gases would produce changes unlike what humans had ever experienced.
In 2004, science historian Naomi Oreskes published research that showed that from at least as early as 1993, almost all peer-reviewed climate science reports accepted the position that by burning fossil fuels, human beings have contributed to global warming. Under ferocious attack from climate sceptics, Orekes, who is now the Professor of History of Science at Harvard University, spent years defending and updating her work. She is best known for her 2010 book (with Erik.M. Conway ) Merchants of Doubt – How a Handful of Scientists Obscured the Truth on Issues from Tobacco Smoke to Global Warming.
Australian scientists were leaders in bushfire research. In early 1987, a research paper attracted the attention of Sydney Morning Herald (SMH) science journalist Bob Beale. The report was by the CSIRO's National Bushfire Unit's Dr Tom Beer and two others. Their calculations were based on projected higher temperatures and stronger winds by the middle of the 21st century.
Last week Dr Tom Beer wrote a letter to the The Age: "The current controversy over bushfires and climate change led to my hunting out a reprint of the scientific paper that I, and my CSIRO colleagues Malcolm Gill and Peter Moore, produced in 1988. This was the first scientific examination of Australian bushfire danger under climate change. It states that under climate change, the mean annual fire danger – in other words, the fire danger every year on average – would be larger than the fire danger during the year in which Ash Wednesday occurred. It appears to have been a perceptive comment." (The Ash Wednesday occured in 1983.)
So if there were warnings 30 years ago, why have we not been preparing for thirty years, or better still acting to avert disaster?
Interviewed by The Guardian Australia this week, Dr Beer and his CSIRO boss in the 1980s, Dr Graeme Pearman, asked themselves whether they could have done more to persuade policy makers to pay attention to the science. Pearman partly blames the lobbying efforts of the fossil fuel industry for the lack of action.
But if scientists have questions to answer, so too do journalists. These questions are pertinent, especially at at time when large media organisations have united to campaign for more "press freedom" and rights and privileges for journalists under the banner of the "Right to Know". By obscuring the truth, have journalists and editors betrayed their own obligation to the public's right to know?
At this point, it's worth remembering that something else happened in 1987. The Labor Federal government controversially allowed News Corp to take over a conservative Melbourne newspaper called Herald and Weekly Times. This led to Australia having the most concentrated media in the world with News Corp owning the only mainstream media print outlets in Hobart, Brisbane and Adelaide, and what were to become the two biggest newspapers in Australia, the Herald-Sun (Melbourne) and the Daily Telegraph (Sydney). In 2013 in an essay for The Monthly, Robert Manne described Labor's actions as allowing "the birth of what was potentially the most anti-democratic force in national life."
The answer to questions about how the Australian media allowed the warnings about climate change to be buried, lies in another characteristic of journalism. As journalists we exercise power. We can play a role in stigmatising and marginalising voices. We select evidence and sources to build narratives. The production of silences is at least as much an exercise of power as the production of stories. The media proprietors' power to publish (or not) is not the same thing as the public's right to know. Unless held accountable to standards of evidence and accuracy, journalism can become a propaganda weapon. This is what happened to much of the reporting of climate change in Australia.
Levels of Australian media coverage of climate change did not rise dramatically until 2004, but by then there had been nearly 15 years of organised, well-funded activity designed to contest the climate science consensus.
In May 1992, 143 nations attended an Earth Summit in Rio de Janeiro to draft a treaty to limit greenhouse gases. A week later, the Australian Coal Association held a conference on the Gold Coast. The following day's The Age story was headlined, "Scientist Pours Cold Water On Global Warming". It led with the words: "There was no evidence to suggest that increased levels of greenhouse gases were warming the globe, a leading American climatologist said yesterday." Professor Richard Lindzen had told the conference that most climate experts did not believe any global warming was caused by human factors. He accused "vested interest groups" in the environmental movement of hijacking the debate. But as the Ottawa Citizen had reported earlier in the year, Lindzen himself was courted by vested interests because, 'if he is right we can keep on burning mountains of coal and shiploads of oil and gasoline without producing catastrophic changes in our climate. That is why he is the darling of the oil and coal industries for whom fuel is worth billions of dollars." So much so that industry lobbyists handed out pamphlets promoting Professor Lindzen's views at international meetings to negotiate a treaty to limit emissions."
Professor Lindzen remained active in the world of climate scepticism for the next 25 years, compiling lists of opponents of climate change to challenge the IPCC. He left the respected Massachusetts Institute of Technology and joined the right wing free enterprise Cato Institute. In 2017, DesMosBlog, an independent journalism blog established in 2006 to investigate the "PR Pollution that clouds climate science" reported that Lindzen had sent a letter to President Trump signed by 300 climate sceptics and denialists including Australia's One Nation Senator Malcolm Roberts. The letter urged Trump to pull the United States entirely from the United Nations Framework Convention on Climate Change (UNFCCC).
Of course, Lindzen is only one of a number of prominent climate sceptics. A large amount of scholarly research has investigated the way journalists cover climate change, particularly how journalistic notions of "balance" are used as a 'strategic ritual' to amplify views that lack an evidentiary basis. ( For more on this, see page 35 to 36 here.) The result was that climate sceptics grabbed a disproportionate share of coverage.
Comparative research studies have also shown that Australia media has been the most sceptical in the world. We used the Dow Jones Factiva news database to get an up-to-date snapshot.
The first thing you notice is that the right-wing columnist Andrew Bolt has written more stories discussing climate change than any other journalist. Since 2009, he has published in The Herald-Sun, The Daily Telegraph, The Advertiser (Adelaide), The Courier-Mail (Brisbane), The Northern Territory News, Townsville Bulletin, Cairns Post and the Gold Coast Bulletin. He also broadcasts on Sky News.
In 2010, he wrote, "The great global warming scare is dying not with a bang, or even a whimper. Try a great horse laugh", as he mocked the 20,000 politicians and so-called "carpetbaggers" meeting in the Mexican resort city of Cancun. In May 2011, "hot air was leaking from the alarmists balloon". In 2018 when the Greens were warning about climate change as Tathra burned on the NSW South Coast, he wrote: "The Greens are vultures. They flap in to feed off every natural disaster, screeching: "Global warming!" They've done it again with the fires in NSW and Victoria and the cyclone that hit Darwin."
As the fires burned last week, we checked Andrew Bolt's blog. He's still at it, warning readers of the "apparent (false) assumption that the fires were caused or made worse by global warming." Andrew Bolt is just an individual and only one of several sceptic Newscorp and Sky News columnists. His power comes from editors who desire to publish his content.
In 2013, the Australian Centre for Independent Journalism (ACIJ) investigated Australian media coverage of climate change. We compared three months of coverage in 2011 and 2012. 32% or nearly one-third of 602 articles that covered climate science either rejected or suggested doubt about the consensus position. Almost all Fairfax (now Nine) coverage accepted the climate consensus position. The highest proportion of climate scepticism was in the Daily Telegraph in which 62% of stories were coded as either rejecting or suggesting doubt about the consensus position.
An earlier ACIJ study compared the percentage of stories positive towards the Prime Minister Julia Gillard's carbon policy ( labelled a Carbon Tax) to the percentage of stories negative to the policy in 10 Australian newspapers over three months in 2011. The Daily Telegraph, the Herald Sun, the Courier Mail and The Australian were all more than 80% negative.
As evidence of the terrible impacts of climate change from around the globe mounts, it's easy to assume that everyone else is in your own media bubble. But audiences are packaged as well as the news. Polls show that most Australians are concerned about climate change but that there is also a minority, who are more likely to be older men, who are unsure or do not accept the consensus position. These are the target of sceptic media.
A review of recent coverage of climate change in the Townsville Bulletin shows that a reader who relied on this outlet for information could justifiably believe that there is no scientific consensus about the role of humans in climate change and that "progressives" and the "left-wing ABC" are broadcasting false reports about the link between bushfires and climate change.
Earlier this year, Doctors for the Environment member Dr John Iser, wrote to The Australian in response to yet another climate sceptic opinion piece published earlier this year, ""The media's role is to shed light on truth, not to obfuscate it; to challenge power, not be beholden to it," There are many examples of journalists standing up for ethical reporting of climate science, including several who left News Corp unhappy with its stance on climate change. These include Graham Readfearn who began a Green Blog at the Courier Mail but resigned to freelance and investigate for DesMosBlog. After he left News Corp, his blog was deleted but fortunately it was retrieved by Wayback Machine. Readfearn tells the fascinating story here and is now an environmental reporter with The Guardian.
This year The Conversation editors decided that it was "journalistically irresponsible to present settled science alongside comments that undermine and distort it and mislead our readers". In response to questions, editor Misha Ketchell replied: "It's part of the role of a journalist to filter disinformation and curate a positive public discussion that is evidence-based and doesn't distort the range of views …". The Australian accused The Conversation of stifling free speech. But in the face of the danger that fires already pose to millions of Australians and the threat to future generations, shouldn't free speech include the public's right to know as well as the power to publish? – –
Wendy Bacon and Chris Nash are both former directors of the Australian Centre for Independent Journalism based at the University of Technology Sydney. It was closed in 2018.
Extra note:
Rick Mohr – Update
This week we contacted sociologist Rick Mohr who organised the publication of  the original Tharunka "Threatened Planet' stories. Now 74, Rick told Extra Extra that he has continued his interest in "science and technology, climate and environment, since the days we were working on Tharunka…" We asked him how he views our current dire climate emergency predicament?
"Despite all the science, and the predictions we've been seeing for decades about a few degrees of warming and the increase of extreme weather events, it was hard to really picture it until the last year or two. Then two years ago it became clear that the Great Barrier Reef was dying. The wetlands in the Gulf of Carpentaria are dying (and look at the science on 'blue carbon' and the role of wetlands in carbon sequestration). The old growth forests in Tasmania burnt two years ago, and may never be able to replace themselves. Last year we saw the death of the Barka (the Darling River): powerfully presented in the wonderful exhibition 'River on the Brink', curated by Gavin Wilson at the S. H. Ervin Gallery, 2019.
Now the east coast forests from the Hunter to the Daintree are burning, including rain forest. We are seeing the progressive deaths of all the Australian ecosystems. And that is just the piece of the elephant that we see. Drought has brought Chile to its knees, and the people onto the street. We know (but do we care?) that Bangladesh and many Pacific Islands are being inundated. There are unprecedented fires and droughts around the globe: Portugal, Greece, the Canary Islands, just to mention a few sites in Europe. This really is apocalyptic."
Mohr is currently pursuing his lifelong interests in science, technology and the environment in a new project with younger scholars from Australia, Italy and Portugal. These colleagues are working on  issues of information & communication technology (ICT, including artificial intelligence), food regulation and culture, and the rights of nature. He sees that the "underlying problem in all these areas is one of alienation from our technology. We don't recognise technology and its consequences as being of our own (human) making. We pretend that there are simply unintended consequences: I claim that responsibility is more important than intention.This alienation is rooted in western cosmotechnics: nature is there to be dominated in a Promethean struggle. Other cultures, notably First Nations, have a totally different cosmotechnics, understanding their technics as being in harmony with nature."